The cellar with the appearance of a Roman building hides a modernity essential to the respect of nature: we promote renewable energy with a project of photovoltaic panels. The building is eco-designed and low consumption, insulated with natural materials to fight effectively against heat loss.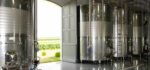 We do not use thermoregulation for our vats, the vagaries of temperature changes in the heart of the cellar are intrinsically linked to life outside, so our wines are made at the rhythm of nature.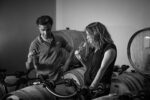 Our oak barrels come from cooperages in the southwest.
All our packaging is recyclable and the cardboard and paper of the label are FSC certified, we promote eco-design.